Plesser's Appliance Scholarship In Memory of Diane Froehlich
Throughout its history, Plesser's has remained family owned and has embodied the tenets of small business entrepreneurship. In an age of huge, multi-billion dollar chain stores, Plesser's has used this spirit to navigate the retail appliance and electronics industry and remain viable and profitable.
Always looking to give back to the community that has supported us and served us well over the years, we have decided to create an annual scholarship, which will hopefully propel future generations of entrepreneurs toward a similar path, keeping small business relevant.
In 2016 we lost a devoted employee of almost 20 years and lifelong Babylon resident, Diane Froehlich. Diane was well known and loved in the community and was the embodiment of its spirit. Diane was also a graduate of Babylon High School. Accordingly, we are honored to create this scholarship in her name.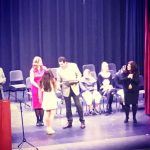 We awarded the Plesser's Appliance scholarship to a Babylon High School Student looking to pursue a future in business. In addition, this student has a strong sense of community demonstrated in part by their participation in volunteer/philanthropic endeavors. On Tuesday, June 6th, 2017 we announced our first annual scholarship recipient, Celina Saffioti. Thank you to all of our applicants.
2018
On Wednesday, June 6th, 2018 Plesser's announced our second scholarship winner in memory of Diane Froehlich. Congratulations to this year's winner Danish Farooq. We're honored to award our scholarship to Danish. He is an exemplary student who is greatly involved in the community and helping others. We wish Danish much luck as he begins his college career.
2019
Our 2019 scholarship recipient is Katherine Bencivenga. Congratulations to Katherine and we wish her all the best as she starts her college career at the end of the summer.
2020
Due to the circumstances in 2020, we decided to award our scholarship to two winners. We are excited to congratulate the winners, Kate Hannon and William Singleton. We wish you much success in college and all your future endeavors.
2021
We are proud to announce that this is the fifth year since we inaugurated our scholarship. It is with great pleasure that we announce our 2021 recipient is, Allie Van Rossem. Congratulations to Allie! Wishing you continued success always.